Bringing Your Pets On Board
Marine Atlantic is happy to provide a safe travel experience for all passengers, including those with fur and four legs.
To ensure a safe and comfortable crossing for your pet, please review the guidelines below before leaving home. 
You are required to maintain control of your pet at all times and clean up after them. Please remember that others nearby may be uncomfortable around animals.
Pets must always be on a leash, in a pet travel carrier or in your vehicle while on Marine Atlantic property other than when inside designated pet park areas at our terminals.
Leashes must be 6' in length or less; extendable leashes are not accepted.
Pets in pet travel carriers are permitted inside terminal buildings. Pets on a leash may pass through terminal buildings, but not stay inside.
Keep in mind our terminals and vessels have a lot of new smells, sights and sounds that could make your pet excited or anxious.
We recommend passengers consult with their pet's veterinarian to ensure that all vaccinations are up to date prior to travel.
Travelling with a certified service animal? Please click here for more information.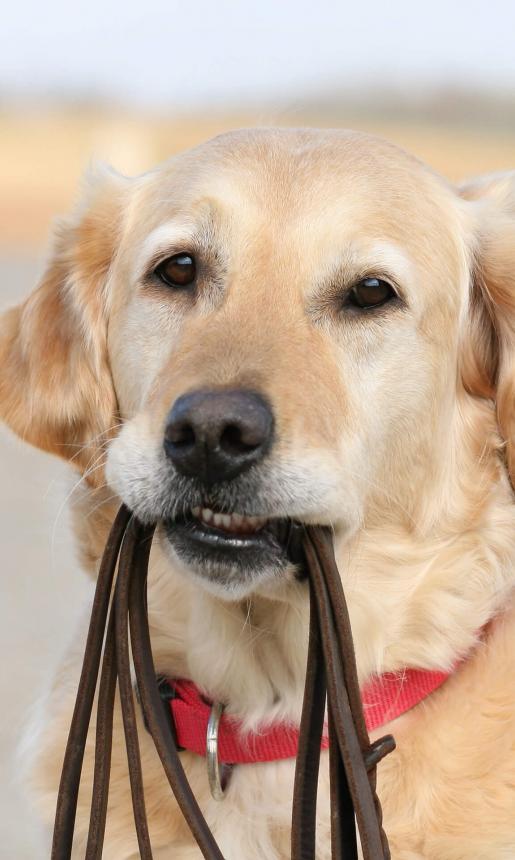 Pet Travel Options
We offer three options for pets to travel on board our vessels: reserve a pet-friendly cabin, leave your pet in your vehicle, or reserve onboard kennel space. For each option, you will need to add your pet to your reservation during the booking process.
During check-in, notify us you are travelling with a pet and you will be given a 'Pet On Board' card to display in your window to assist our team during the boarding process. If you are staying in a pet-friendly cabin or utilizing the kennel space, please keep a copy of your itinerary with you at all times on board. This will ensure our crew members know you have one of these options reserved.
Option One: Reserve a Pet-Friendly Cabin
Accommodations are limited and must be booked in advance. View our pet-friendly cabin rates.
Pets must be on a non-extendable leash or in a pet travel carrier whenever going to and from your pet friendly cabin. The only time pets are permitted outside your cabin is when visiting the relief area.
Pets are not permitted to be left unaccompanied in pet-friendly cabins. Animals other than dogs must remain crated at all times.
For hygiene purposes, we ask that pets refrain from getting on the beds. Please consider bringing your own pet bed or using a blanket to make your pet comfortable.
Pets causing a disturbance for fellow passengers may be required to utilize kennel space, if available, or be returned to your vehicle.
A maximum number of two pets are permitted per pet-friendly cabin.
Frequently Asked Questions: Pet-Friendly Cabins
What pet(s) can I bring into my pet-friendly cabin?

Dogs, cats, rabbits, rodents and small birds are welcome in our pet-friendly cabins. Animals other than dogs must remain crated at all times.
Are pet-friendly cabins available on all vessels?

Pet-friendly cabins are available on the MV Atlantic Vision, MV Blue Puttees and MV Highlanders.
Can I bring my pet on the elevators?

Passengers travelling with dogs are encouraged to use the elevators when moving between decks. Staff will ensure only animals familiar with each other are in the elevator at the same time.
What happens if the vessel I am scheduled to travel on changes?

In the event of a vessel switch, pet-friendly cabins may not be guaranteed. We may offer kennel space instead, or if that is unavailable, you will have the option to leave your pet in your vehicle or select an alternate crossing date/time.
Where can my pet relieve itself?

There is a dedicated pet relief area on board in the kennel space on Deck 7 of MV Blue Puttees & MV Highlanders and Deck 10 of MV Atlantic Vision.

If your pet has an accident during the crossing, please visit reception on Deck 7 for cleaning supplies.
Option Two: In Vehicle
You may leave your pet in your vehicle for the duration of the crossing. Many pet owners choose this option as dogs and cats tend to be more comfortable in a familiar environment. Of course, every pet is different and therefore we rely on the owner to choose the best option for their animal.
Remember to leave vehicle windows partially open to maintain airflow for your pet(s).
For safety and security reasons, passengers are not permitted on vehicle decks during the crossing. Therefore, you will not be permitted to visit your pet until the vessel has arrived in port.
Please note: The Port aux Basques - North Sydney crossing is approximately seven hours and the Argentia - North Sydney crossing is approximately 16.5 hours. Due to the length of the Argentia - North Sydney crossing, pet owners are strongly urged to cross on the Port aux Basques - North Sydney route. However, should you decide to travel on the Argentia - North Sydney route, you must determine if this is the best option for your pet.
Option Three: Reserve Onboard Kennel Space
You may reserve a space for your pet's travel carrier, which must be constructed of hard plastic (collapsible wire and soft-sided carriers are prohibited). You are responsible to bring your own lock for your pet travel carrier.
In the event of a vessel switch, your space may not be guaranteed. If a vessel switch occurs and we are unable to provide kennel space, you will have the option to select an alternate sailing, or leave your pet in your vehicle.
Space is limited and must be booked in advance.
All pets must be transported from their vehicle to the kennel area on a leash or inside a pet travel carrier.
Each kennel space includes a relief area with water, a scoop tool, disposable plastic bags and a garbage receptacle. Pet owners are responsible for cleaning up after their pet.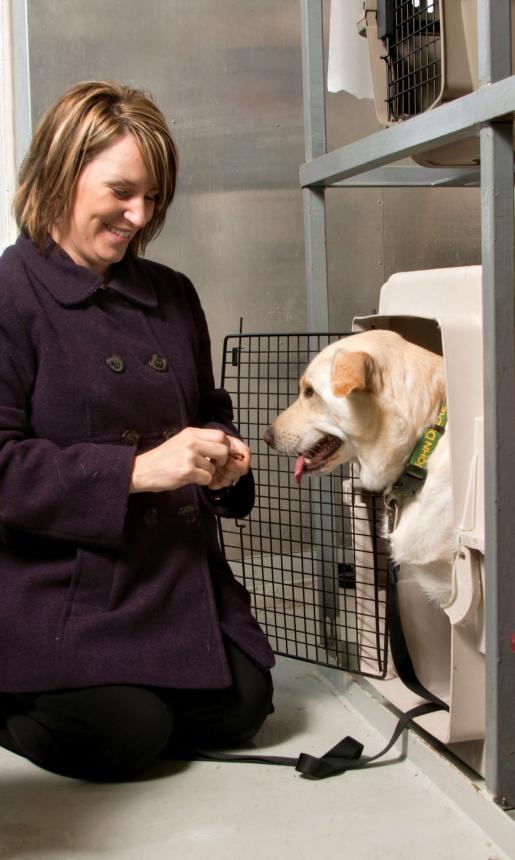 Pet Travel Carrier Sizes

Pet travel carriers must fit within the dimensions outlined below. Please select the space that best accommodates your pet travel carrier, and ensure you bring a lock. If your pet travel carrier does not fit these requirements, your pet must remain in your vehicle. You will not have access to your vehicle during the crossing.
Extra Large
Available only on MV Atlantic Vision
Measures NO GREATER THAN 40" deep x 27" wide x 30" high
Usually suitable for Afghan Hounds, Dobermans, large Labradors, Pointers, and German Shepherds
Large
Measures NO GREATER THAN 35.5" deep x 25" wide x 27" high
Usually suitable for small to medium Labradors, Australian Shepherds, Border Collies, Boxers, Dalmatians, and Airedale Terriers
Medium
Measures NO GREATER THAN 31.5" deep x 22" wide x 25" high
Usually suitable for Beagles, larger Shetland Sheepdogs, small Border Collies, English Bulldogs, and Springer Spaniels
Small
Measures NO GREATER THAN 27.5" deep x 21.5" wide x 21" tall
Usually suitable for medium to small Shetland Sheepdogs, Miniature Poodles, Shi-Tzu, and Lhasa Apso
We love our four-legged passengers and know a journey isn't complete without our furry friends. Our Port aux Basques and Argentia terminals each have an off-leash dog park. Let your dog enjoy the great outdoors, burn off excess energy and visit the park fire hydrant before boarding our vessels for the next leg of your adventure — remember, a tired dog is a good dog. And who knows, your dog might even make a new friend or two. See below for rules and regulations, or learn more about the terminal offerings.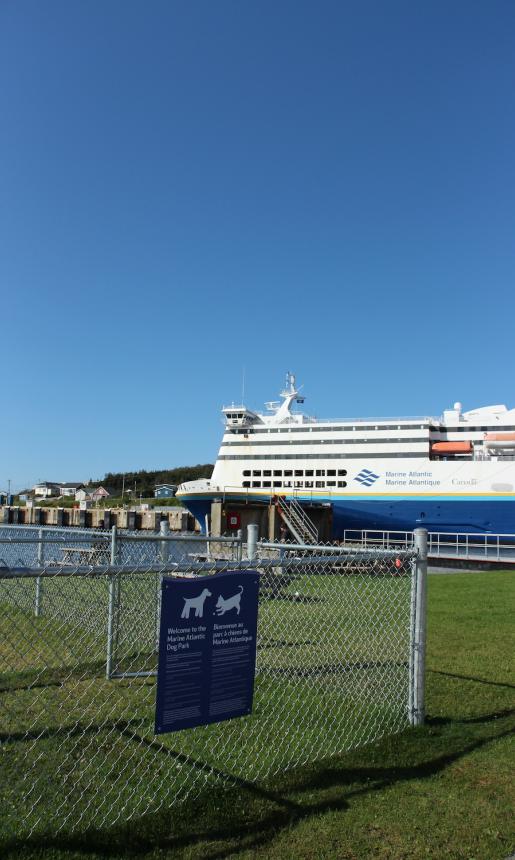 Rules and Regulations

To our dog friends, there are a few rules we ask that you follow for your safety and those around you at our dog-only park. If you decide to run, jump and fetch, please be mindful of small children and others nearby.
Remind your owners or human companion that they:
are responsible (the lawyers say "liable") for what you do at all times
have to pick up after you
must put you back on a leash when you leave
need to supervise your every whim, need and interaction with others
must not forget to watch out for their kids when paying attention to you
are not to leave you alone and unsupervised to make new acquaintances on your own
If these rules are followed, everyone should have fun and stay safe with no need to growl about Marine Atlantic having to state that users of the dog park do so at their own risk, and that Marine Atlantic assumes no liability for any injuries, loss of or damage to property arising from the use of this park.