Welcome to Port aux Basques!
Greetings from Port aux Basques, a welcoming community nestled on Newfoundland and Labrador's rugged, beautiful southwest coast. Our terminal is located on the south side of the property. It is fully accessible, and complimentary Wi-Fi is available throughout.
GPS COORDINATES
N 47o 34' 53"
W 59o 08' 21"
 
CONTACT
P.O. Box 520
Trans Canada Highway
Route 1 - Terminal Road
Port aux Basques, NL
A0M 1C0
1-800-341-7981
What's available at the terminal?
On the main floor, find the ticket counter and office, main lobby, children's play area, public washrooms, family washroom with change table, cafeteria with full meal service*, vending machines, ATM, lounge with satellite TVs, seasonal retail store, and a complimentary tourism brochure booth.
On the second floor, relax in the waiting room with satellite TVs, enjoy views of the Gulf of St. Lawrence and explore the public viewing terrace. Marine Atlantic's Port aux Basques Reservations Office and administration area are also on this level.
Outside, find another children's play area, designated smoking area, and our off-leash dog park. Let your dog enjoy the great outdoors, burn off excess energy and visit the park fire hydrant before boarding our vessels for the next leg of your journey. Find out everything you need to know about travelling with pets.
*Cafeteria hours are 06:30 to 22:30 daily. For details on services in the surrounding community, please visit the Port aux Basques website.
Four toll booths mark the entrance to the Port aux Basques terminal, where the MV Blue Puttees, the MV Highlanders, the MV Atlantic Vision, and the MV Leif Ericson sail for North Sydney, Nova Scotia.
 
Upon check-in and receipt of full payment, customers receive their boarding passes, and are directed to the available traffic lanes to await boarding. For the convenience of walk-on passengers and guests arriving by taxi, the service lane will take passengers to the terminal building. Buses access the building from the east side, where the baggage area is also located.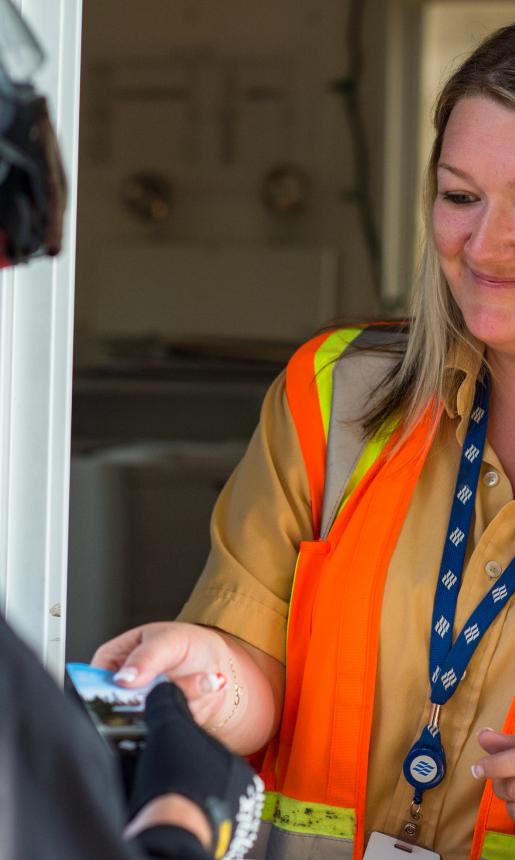 Content provided by an external party