Ensure your shipment arrives on time with our frequent sailings. We transport over 100,000 commercial units annually, and account for more than half of all goods shipped to and from the Island of Newfoundland. From commercial vehicles, to freight, livestock, and commercial cargo, we help get your goods to their destination with confidence.
Commercial customers enjoy their own private lounge with satellite TVs, private washrooms, and shower facilities in our North Sydney and Port aux Basques terminals. Rest and relax after a long journey in a quiet area with comfortable reclining chairs, and recharge with complimentary tea and coffee.
Commercial Policies and Procedures
Commercial reservations may only be made on a one-way basis. Return reservations are not permitted.
All commercial drivers are required to provide a copy of their load manifest upon check-in.
Commercial drivers are eligible to purchase a commercial berth regardless of license class or unit type.
All drivers must present government-issued photo ID.
Any commercial driver choosing not to move on a sailing, or who is away from their unit when called upon to board, is subject to a $150 administration fee.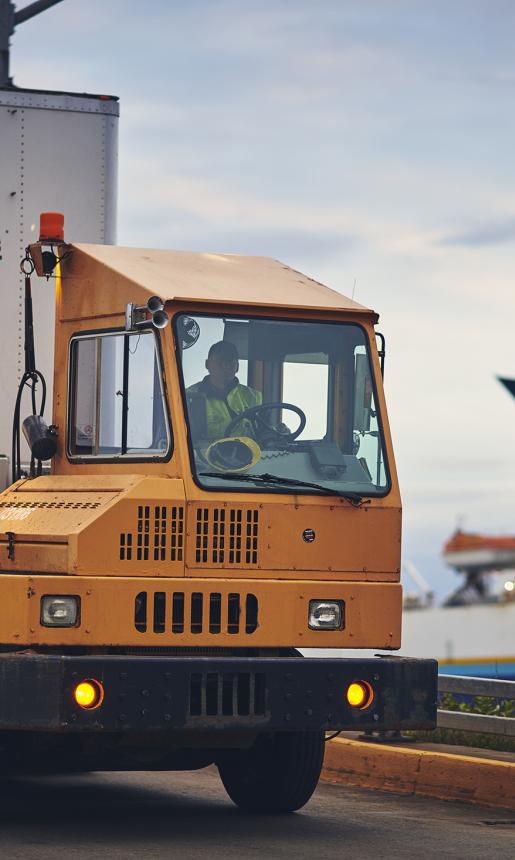 Commercial 
Dangerous/Overwide: 6 hours
Livestock/Live Fish: 3 hours
Premium 
Drop trailers: 4 hours
Live trailers: 3 hours
Argentia Commercial Units 
Overwide: 6 hours
Drop trailers: 4 hours
Live trailers: 2 hours
Route-Specific Commercial Information
Port aux Basques <-> North Sydney (Gulf Service)
Commercial units are accommodated on a first come, first served basis unless holding a reservation (premium booking). 
Commercial units carrying livestock, live fish and wide loads exceeding 11'6 wide are permitted to make a reservation. 
There are limited spaces allotted on each sailing for customers who choose to call and make a premium reservation, subject to additional fees, and terms and conditions. To learn more about premium bookings, please see Commercial Traffic.
Argentia <-> North Sydney (Seasonal Service)
Commercial units travelling to or from Argentia must make a reservation. To make a reservation, please call toll-free at 1-800-341-7981.
Livestock and dangerous goods are not permitted to travel on the Argentia <-> North Sydney route.
Reservations must be paid in full at time of booking.
Cancellations are permitted up to 48 hours prior to departure at no cost. Cancellations within 48 hours of departure are subject to a fee of $150.
No-show units will be charged the full tariff fare.