Our top priority is a safe, comfortable journey for passengers and crew. To ensure fast loading and unloading times, review the instructions below. If you have additional questions during loading, sailing, or unloading, please contact a member of our crew. 
Loading plans are finalized before each crossing with safety, security, and maximizing vehicle capacity in mind. For safety and vessel stability, loading might not occur in the order you arrive, and you might not exit the vessel in the sequence in which you were loaded. We appreciate your patience as we safely bring everyone onboard as fast as possible.
Quick Tips

Here's how to make the loading process as smooth as possible:
Do not remove your vehicle from the lot once you have checked in.
During the loading process, carefully follow the directions of terminal staff and crew.
Please have your boarding passes ready. They must be scanned prior to boarding the vessel.
Be ready to leave your vehicle promptly once loaded, and have all carry-on items ready, including warm clothing, medications, and other items you might need during your voyage.
Passengers are not permitted to return to the vehicle deck once the vessel leaves port.
Bringing a four-legged friend? Please see Travelling with Pets.
Travelling with a firearm? Please see Safety and Security Policies.
Please be aware that soil from Newfoundland and Labrador is subject to movement restrictions. Moving soil from the province may be an offence under the Plant Protection Act. For more information regarding soil movement restrictions, please visit Canadian Food Inspection Agency – Soil.
Marine Atlantic staff will provide you with directions during the boarding process on the placement of your vehicle on a designated vehicle deck. Please follow their instructions.
Please remember where your vehicle is parked. MV Blue Puttees and MV Highlanders passengers, note the deck colour; MV Atlantic Vision passengers, note both the deck colour and the colour of your elevator.
Pets must be kept away from the driver's side window during the loading process.
Motorcycles are required to be secured on deck during the crossing. We provide straps; however, it is the responsibility of the driver to tie down the motorcycle.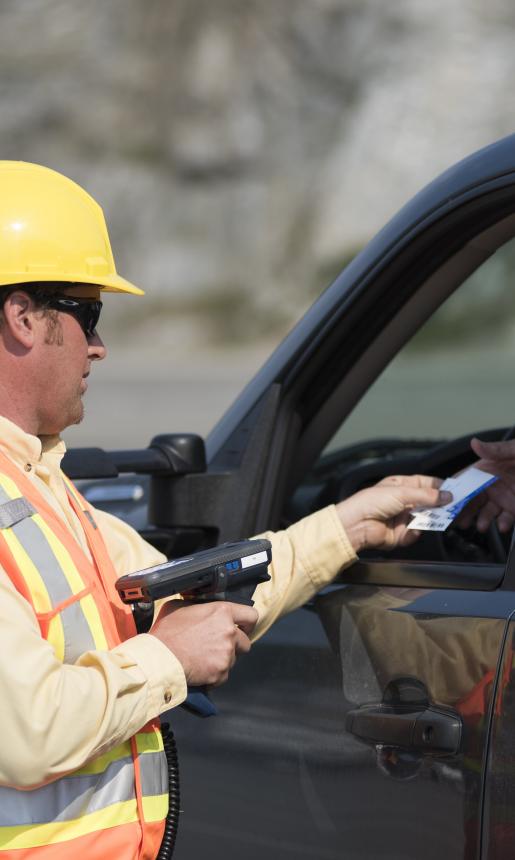 Smoking is prohibited on vehicle decks, including inside vehicles, and is only allowed in designated areas on outside decks.
Do not use mobile devices during loading and unloading.
Vehicle decks can be slippery when wet.
Please watch your step around the vessel for raised thresholds and tripping hazards.
Do not open strollers on the vehicle decks.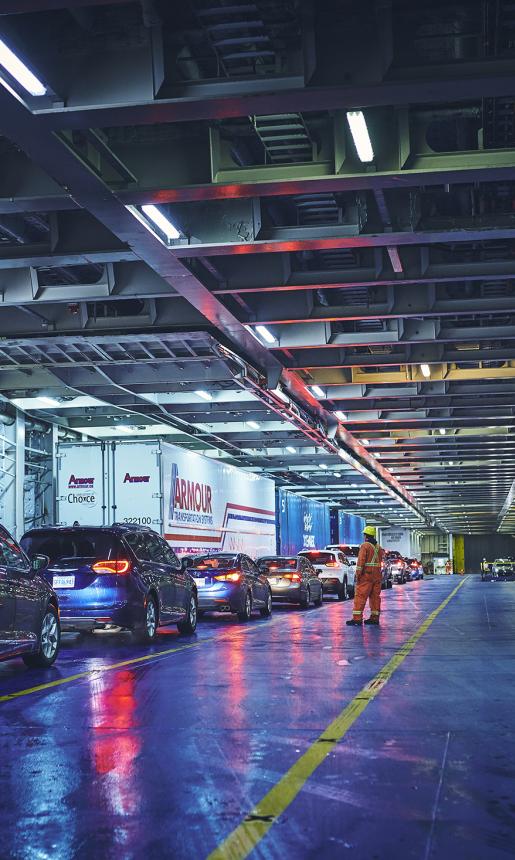 Persons with Disabilities
Persons with a disability or persons who need to be located near an elevator on the vehicle deck must notify the ticket agent during check-in. Your vehicle will then be placed in a specific lane.
 
When boarding, please turn on your vehicle's four-way flashers to let crew members know you need to be placed in close proximity to the elevators. Due to the loading sequence and specific vehicle placement on the vehicle deck, a person in this line may not necessarily board the vessel at the beginning of the loading process.
For more information, please see Persons with Disabilities.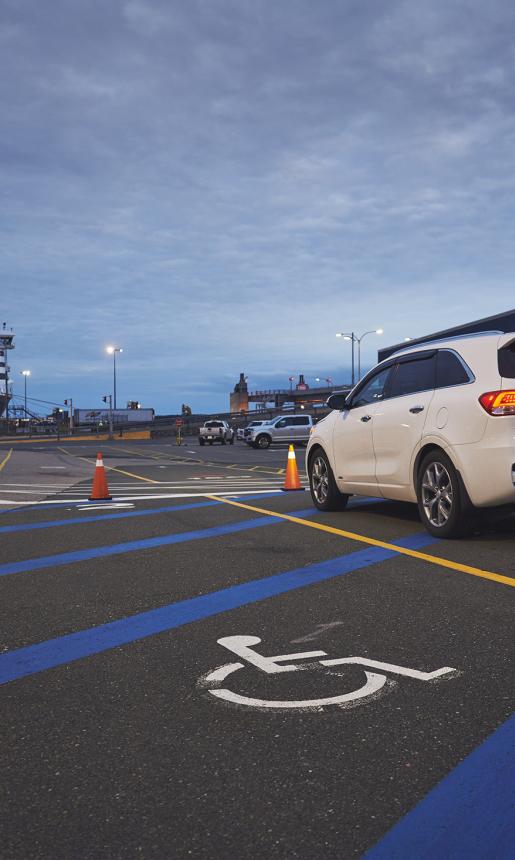 Foot passengers must check in two hours before scheduled departure time. Foot passengers will be directed to a designated area to meet the Marine Atlantic shuttle bus, which will transport you to the ferry during the loading process. A boarding announcement will be made at the terminal five minutes before the shuttle bus loads and will identify the entrance for pick up.
Foot passengers will be required to present their boarding card, as well as government-issued photo identification before boarding the shuttle bus. Pre-boarding of the shuttle bus is available for those who require assistance or need a little more time, and all buses are fully equipped with wheelchair lift units.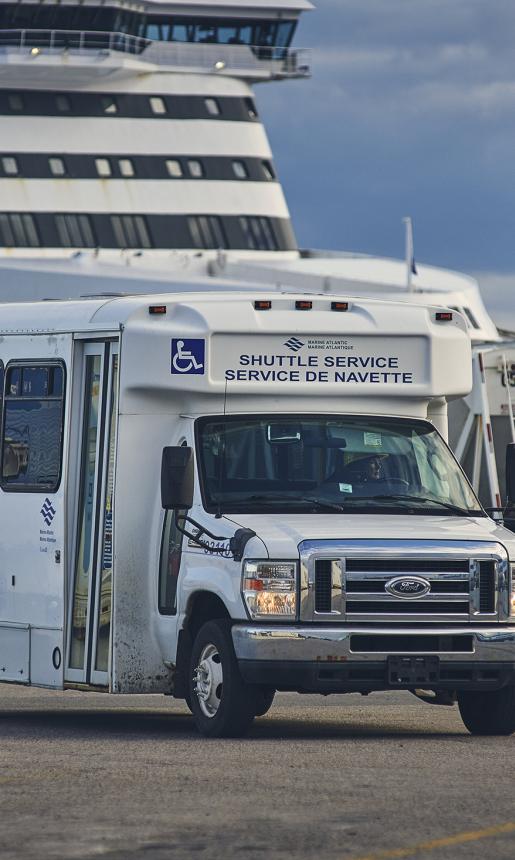 Passengers may ride bicycles onto the ferry, provided they wear a helmet. They may also request to be brought on board via the shuttle bus. Bicycle passengers without a helmet must use the shuttle bus service for loading and unloading.
Passengers may also store bicycles in bicycle boxes (not provided by Marine Atlantic), to be weighed and shipped as freight. For more information on freight shipping, please see Commercial Traffic.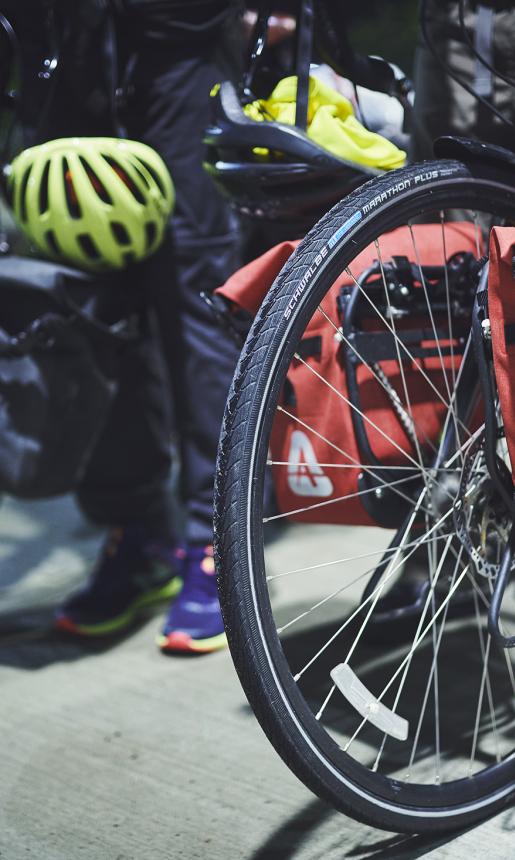 For your convenience, a checked baggage service is available. Marine Atlantic accepts checked baggage up to one hour before the scheduled departure time. Passengers arriving after the one-hour cut-off for checked baggage will be required to carry their baggage.
Checked baggage is loaded on to the ferry by Marine Atlantic staff prior to departure and is available for pick-up at the arrival terminal. Passengers who choose to carry baggage are advised they are responsible to keep it with them at all times while on the ferry.
For more information, including weight limits and additional charges, please see Baggage.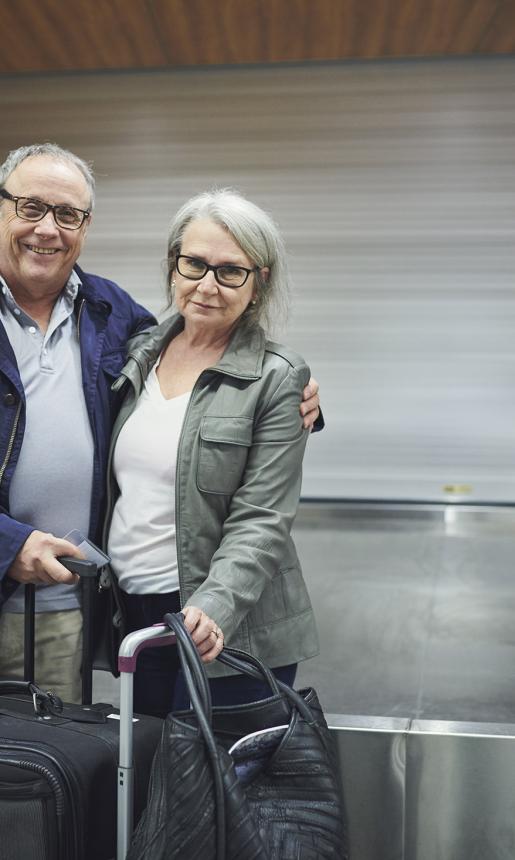 Once we arrive at our destination and prepare to unload, please note the following:
Near the end of the voyage, an announcement will be made updating you of the vessel's proximity to the destination port.
An announcement will be made when pets may be removed from the kennel storage area.
Upon arrival, the vessel must be secured to the dock, with vehicle ramps engaged. Depending on tidal conditions, these adjustments may take time. We thank you for your patience.
An announcement will be made directing passengers to the vehicle deck when unloading is about to begin. A separate announcement will be made for walk-on passengers and those parked on lower deck 1.
For the health of all passengers and employees on the vehicle decks, do not start your engine until directed to do so.
Depending on the amount of traffic on board, unloading times can range from 15 to 30 minutes.