Five Things to See and Do in Lunenburg, Nova Scotia
When an entire town is a UNESCO World Heritage site—one of just 19 in the country—and its historic core is a National Historic Site of Canada, it's a rare combination that means you're in for a treat when visiting. These designations mean about 70 percent of Lunenburg's original 18th- and 19th-century colonial wooden buildings remain preserved and their bright, colourful facades line narrow streets and greet visitors from around the world.
Just an hour's drive from Halifax on the 103 Highway—or about two hours via the more scenic Lighthouse Route through the quaint communities of Peggy's Cove, Chester, and Mahone Bay—Lunenburg is a small town with a big seafaring history and a buoyant, welcoming maritime culture. There's much to explore both on and off shore. 
Whether you're visiting briefly or for a longer stay, here are some must-seas! 
Visit the Fisheries Museum of the Atlantic
Strolling the docks, gazing at the moored tall ships in the harbour, and breathing the crisp, briny sea air gives a good glimpse of Lunenburg's deep connection with the sea. But a trip to the Fisheries Museum of the Atlantic takes this several steps further.
Discover the living fish exhibit and tour nearby vessels, check out the Ice House Theatre, where films are shown throughout the day, or take a guided tour led by retired fishermen and experienced Heritage Interpreters. The museum houses several nautical attractions, a maritime gift shop and restaurant, and offers activities and demonstrations daily from mid-May to mid-October. Trace Nova Scotia's fishing traditions and history from modern day back to pre-Confederation and the earliest days of the Mi'kmaq.
Nearly synonymous with Nova Scotia—especially the South Shore—is seafood. For a tasty sample of this history, head to the Grand Banker Bar & Grill, The South Shore Fish Shack, The Old Fish Factory Restaurant, or one of many neighbourhood restaurants, pubs, and bistros, all of which specialize in fresh, local seafood.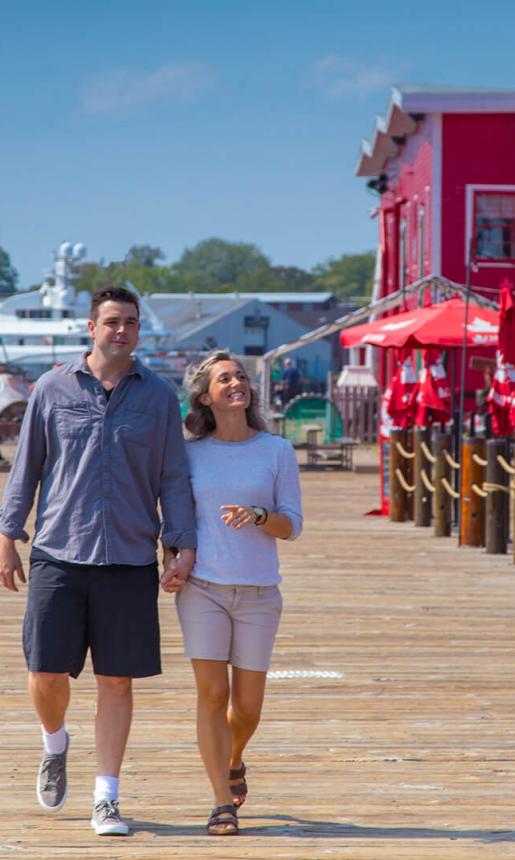 Head up the Hill to Lunenburg Academy
A great place to begin or conclude a stroll of Lunenburg. From the waterfront, head straight up Kaulbauch Street to Gallows Hill, and prepare for sweeping views of the town's surrounding area and a landmark truly unlike anything else in the province. 
Overlooking the town is the iconic Lunenburg Academy, an entirely wooden, three-story, four-towered Victorian schoolhouse built in 1895 and boldly painted in red, black, and white. 
Recently restored, and designated as a Municipal, Provincial and Federal Heritage site, the academy can be seen from most viewpoints when approaching the town. It's the only intact 19th century Academy building in Nova Scotia and unquestionably one the most remarkable heritage structures and landmarks in the province.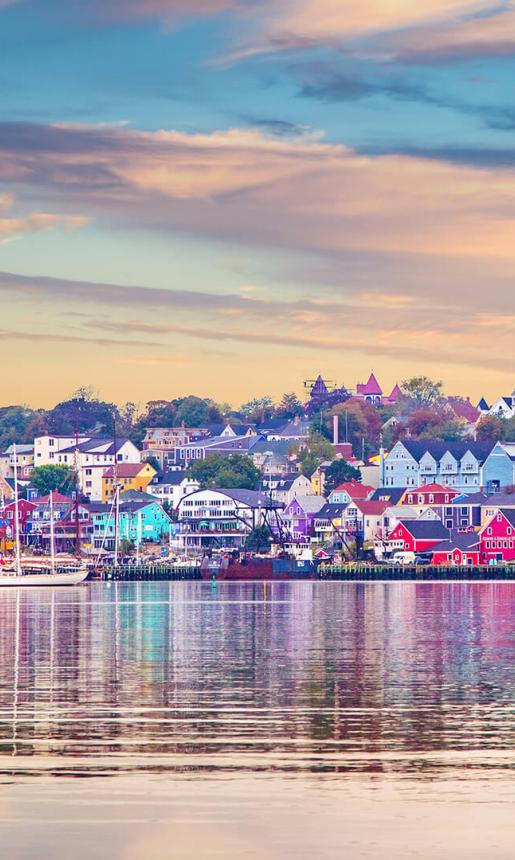 Step Foot—or Set Sail—on the Legendary Bluenose II
Notorious for its speed, ability to slice through rugged waves, and undefeated record in international sailing competitions, the Bluenose was a majestic Grand Banks fishing schooner that's now prominently forged on Canada's dime. 
The original Bluenose was built and launched in Lunenburg in 1921 before racing for 17 years without a loss. This reputation and record cemented the ship as Nova Scotia's sailing ambassador and a true Canadian icon. 
Docked in Lunenburg and stretching a faithful 43.5 metres (143 feet) is the Bluenose II, an accurate replica of the original schooner. It was launched in 1963 and has visited ports around the world. When moored in Lunenburg, it offers two-hour sails daily in the summer season at 9:30 am and 1:30 pm, and its decks are open to the public in between and following these tours.
For a step back into Canada's glory days on the high seas, you'd be hard pressed to find a better way than a step—or a sail—aboard Bluenose II.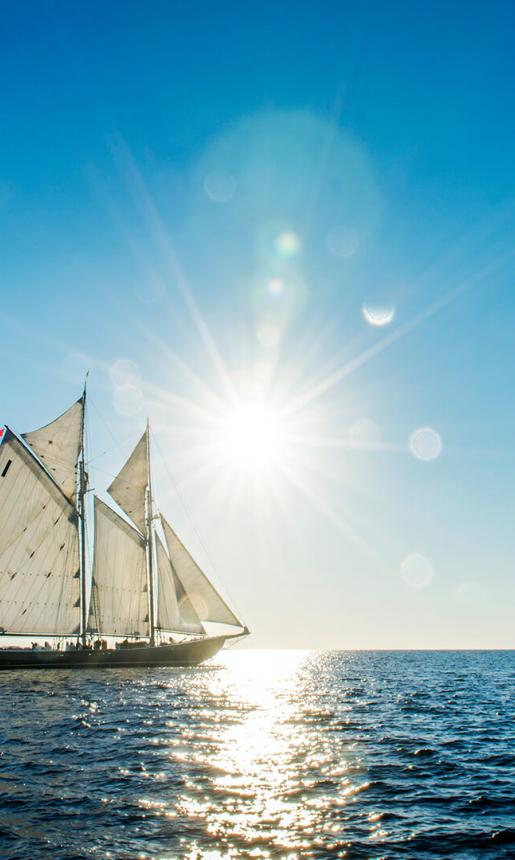 Sip a Dram, Tipple, Snifter or Splash of Nova Scotia Spirits
Nestled in an 1893 heritage building and former marine blacksmith's shop at the corner of Montague and Kempt streets, Ironworks is a micro-distillery that should not be overlooked during a visit. As a landmark of Lunenburg's Old Town, it's a perfect place to step back in time while savouring uniquely Nova Scotian products surrounded by South Shore charm. 
True to the historic methods of crafting fine spirits, Ironworks sources most of their ingredients—including apples, pears, grapes, raspberries, blueberries, juniper berries, and rosehips—from bountiful local Nova Scotia farms and producers to make their many award-winning liqueurs and spirits. Like the anvil of centuries past, the still sits prominently in the shop, and runs almost daily.
Not keen to imbibe? Not to worry. Tours offer much more than sips of the fisherman's best friend. Get an overview of industrial Lunenburg, the building's history, learn about the distillation process, visit the fermentation room, still, barrel cellar, and warehouse, then browse the shop.
Take a Tour on Land or Sea
Lunenburg is popular with adventurers on both land and sea—including cyclists, runners, paddlers, fishers, and those who simply enjoy pleasant strolls in historic towns. 
From the scenic wharf to the surrounding old town, Lunenburg's well-preserved wooden architecture and harbour-hugging design make it one of the best (and well-preserved) examples of a British colonial settlement in Canada.
With so much to see and do in a concentrated area, one of the best ways to explore Lunenburg is by foot, either on your own or with a guided walking tour. Don't feel like walking? Consider a horse-drawn buggy instead.
Tour operators in and around Lunenburg offer many ways to explore on and off shore, learn Lunenburg's history, and immerse yourself in its abundant coastal culture and hospitality. Choose from heritage fishing tours on lobster boats, whale watching, paddling adventures, sailing charters, and much more.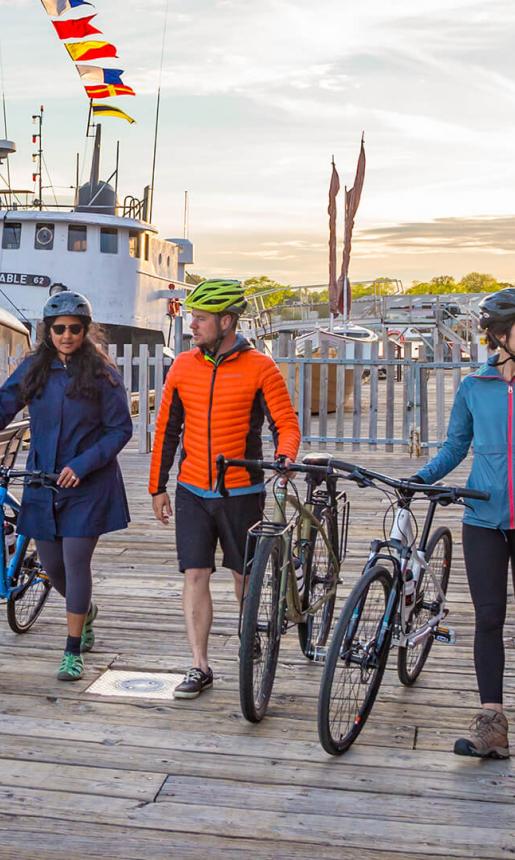 Ready to explore Lunenburg? First you have to set sail with Marine Atlantic! Book your passage and visit this iconic Nova Scotia landmark for yourself!