Argentia Route Sets Sail June 17
Travelling between the island of Newfoundland and Nova Scotia by ferry is even more flexible in the summer. Starting June 17, 2022, our seasonal Argentia service resumes, bringing you just 90 minutes away from the capital city of St. John's. 
Now the question is: what will you bring? When you bring your own ride, the options are endless and you can pack your vehicle to your heart's content. Not sure if you'll need that extra pair of hiking boots? Bring them just in case. Looking to explore Newfoundland and Labrador by land and sea? Not a problem, there's room for your ATV, kayak, and/or bike on board!
The best part of bringing your own vehicle is you can drive straight off the boat and onto your adventure. The only thing between you and exploring is the open road.
 

 
BRING YOUR OWN ADVENTURE
Taking the ferry is the go-to option for people who love the outdoors, fresh air and salt water. And there's no shortage of places to explore on land and sea around Newfoundland and Labrador. 
Newfoundland has 29,000 kilometers of coastline, giving you 29,000 reasons to bring your kayak, canoe or prefered mode of aquatic transportation with you on the ferry. From fantastic fjords to relaxing rivers, the Argentia route brings you close to adventures on the water. The Avalon Peninsula is full of waterways and outdoor adventures for nature lovers, including Bay Bulls and Witness Bay. It's a great way to see whales and spot birds — including the largest Atlantic puffin colony in North America — from a safe vantage point.
If exploring on two wheels is more your preferred mode of transport, be sure to bring your bike. Take in the coastline from your mountain bike, with three trail networks and 80 kilometers of trails just minutes away from downtown St. John's.
For something more down to earth, hike along the East Coast Trail, a network of 336 kilometers of trails that's connected to 30 communities throughout the area, each with its own history and culture to enjoy. August through September is prime whale watching time, while June through July is the best time to catch a glimpse of an iceberg floating by.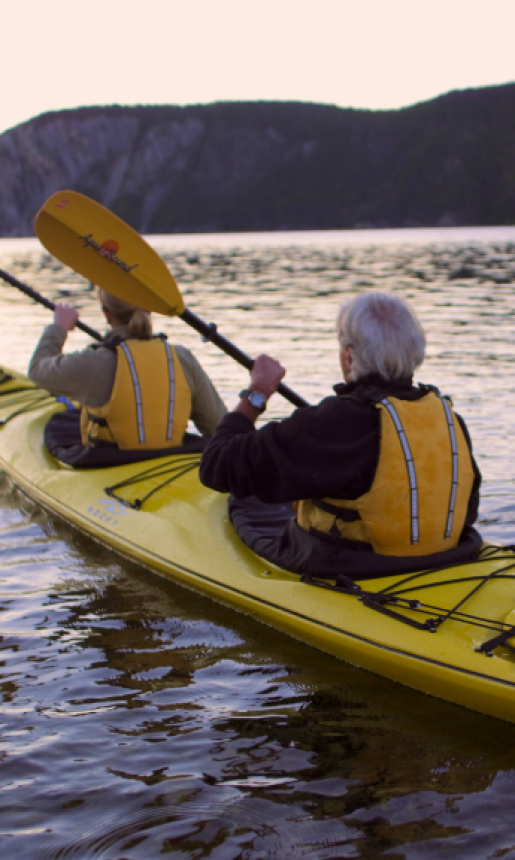 BRING YOUR OWN STAY
Everyone's idea of a getaway is different and that includes where you lay your head after a day of adventure. A hotel room or the spare room of friends and family may be an option, but for some people, there's nothing like setting up your tent in one of Newfoundland and Labrador's incredible parks. 
When you travel with Marine Atlantic, you have the option to bring your tent, that comfortable air mattress, a mattress pump, that extra pillow and anything else that's essential for getting a good night's sleep. 
Just be sure to pack your camera to capture your lodging with Newfoundland and Labrador's picture-perfect landscape as the backdrop.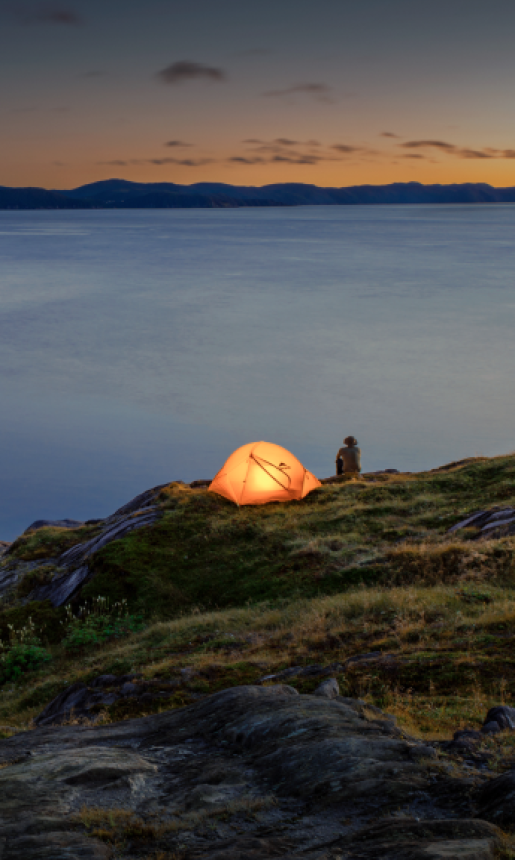 BRING YOUR OWN SENSE OF WONDER
Newfoundland and Labrador is the home of many bucket list-worthy National Parks and Historic Sites, including one just 10 minutes away from the Argentia Terminal. Castle Hill National Historic Site features impressive views overlooking the Atlantic Ocean and the seaside town of Placentia. Along with breathtaking scenery, it's a place to learn about the remarkable history of Newfoundland's fishery. 
If you're looking for bragging rights for the day, make the trek to Cape Spear where you can be the first person on the continent to see the sun rise in the morning from the most-easterly point in all of North America. It's also the home of the province's oldest surviving lighthouse, built in 1836. 
For even more history close to St. John's, visit the iconic Signal Hill. It's been a part of the city's fabric since the 17th century when it first became a vital part of St. John's harbour defences. It's also where Italian inventor Guglielmo Marconi built a receiver to pick up the world's first transatlantic wireless signal in 1901. 
When you bring your own vehicle to Newfoundland and Labrador, you can explore the history of the province to your heart's content, literally. The Heart's Content Lighthouse, built in 1901, features striking red and white spirals on a cast-iron tower. Located on the eastern side of Trinity Bay, this site is an excellent place to take in the views of the bay while looking for seabirds and whales.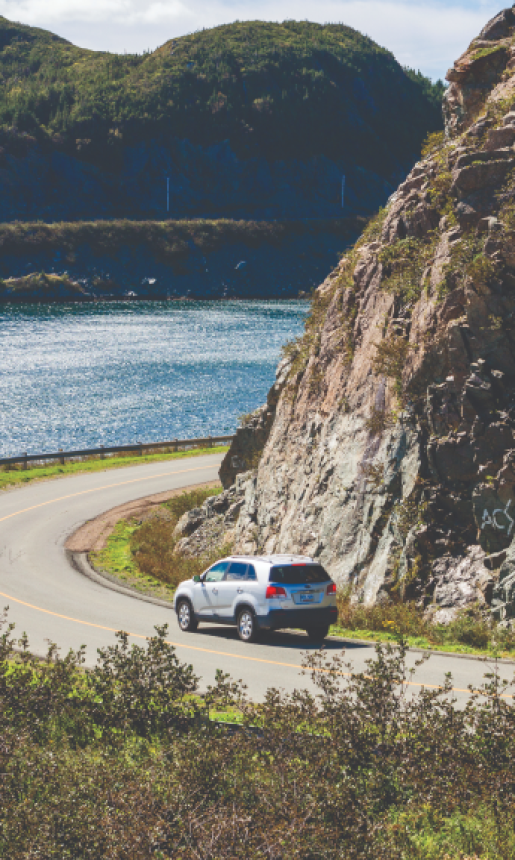 Ready for whales, icebergs, birds and adventure? Book your crossing from North Sydney, Nova Scotia to Argentia, Newfoundland and Labrador. Next, make your packing list. After all, with Marine Atlantic you can bring everything and everyone.